Colour Profiles Explained – CMYK, PMS & RGB
Colour Profiles Explained – CMYK, PMS & RGB
Printing with colour is technical in nature, without some basic knowledge, printing specifications can become quite daunting and confusing to many business owners.
In this Blog, I aim to explain the use of Colour 'In Print' and 'Online' (web / digital ) so small businesses can clearly understand the many variables involved.
Most designers will explain the printing process and their recommendations on a 'per project basis' to their clients, however the language may still seem quite foreign.
Below I have summarized Colour Profiles to help alleviate some of the confusion for many business owners when working with designers or setting up artwork themselves for print or online.
PMS stands for Pantone Matching System (PMS), a proprietary color space used in a variety of industries, primarily printing. By standardizing the colors, different manufacturers in different locations can all refer to the Pantone Matching System to make sure colour results are accurate. The PMS Colour is used to match materials with their corresponding CMYK and RGB colours. ( Important for Branding ) This ensures that colours look the same when produced and matched to a Pantone Swatch.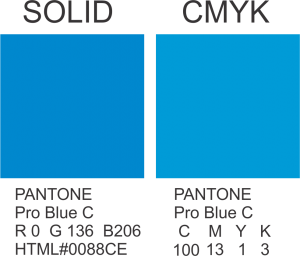 Keeping this in mind, When printing in CMYK the end result may result in a close match only as the 4 colour process is broken down into ink percentages of Cyan, Magenta, Yellow, and Black (K = Key / Black). As shown below, you can see that the Solid PMS to its CMYK conversion is a different shade in colour – usually duller.
When using the PMS Solid Ink the colour will result in an accurate and more vibrant solid Colour.
Spot colour printing describes the process where a specialised blended ink is created to make a perfect match as per chosen Pantone Swatch Number. eg: 1 colour = 1 plate and one press run, 2 colours = 2 plates and 2 press run and so on. The colours are layered onto the paper one by one.
PMS spot colours are commonly used for Corporate ID (Logo Design) where Brand Colour is important.  All CMYK, PMS, RGB Colour breakdowns / conversions are a necessary part of the Company's ID Colour chart – with priority "Use PMS Solid colour where possible" 
PMS Colours are used when accuracy is important, or when a metallic ink is required. CMYK is used for 'in print' promotional material such as Flyers, posters, brochures. Even though 'in print' promotional material will use CMYK printing, PMS Spot colours can be used as a specialty addition.
Colour method is chosen in accordance to 'in print' or 'online' specifications and the client project budget .
Let me Explain;
A client requires a brochure designed for their brand,  the content will be made up of images and text and therefore printed in CMYK,  however the client also requests their Logo ( or specialty ink area ) needs to follow their company ID PMS spot colour (additional) to ensure colour accuracy and vibrancy. For this project example; if the Logo consisted of only 1 PMS Colour then this job order would be referred to as: CMYK + 1 x PMS Spot colour.
The client will always have the option to print the entire job in CMYK only, to keep costs down. In this situation, the client would need to understand that the PMS to CMYK conversion, even though colour is matched from the PMS Chart , the results may look duller and can vary in shade per print run.
There will be many situations where print specs may be limited to CMYK only and therefore this understanding of colour is extremely helpful.
*variables in colour may also apply dependent on paper stock.

CMYK (Offset Printing)
4 Colour Printing refers to the CMYK printing process. CMYK stands for Cyan, Magenta, Yellow and Black. These are the primary colours used for this method of printing.  Varying the percentages of cyan, magenta, yellow and black creates an endless array of colours.  Offset Printing requires four plates to be made for a print result.
CMYK Digital Technology
Digital Printing uses either toner or ink – jet technology. The process of CMYK is still used here however all colours are applied at once and not split into 4 plates on a press as Offset Printing does.
Signage companies use Commercial Digital Technology – Wide Format printers. These printers are capable of printing high resolution prints that are used in commercial outlets for Wall prints, Vehicle Wraps, Posters and more.
Commercial Digital Printing has vast improved over the years, producing crisper print results and is quickly replacing traditional Offset Printing for many manufacturers, due to flexibility, cost effectiveness and quicker turn around times.
Printers and designers are able to provide cheaper printing options to their clients.  *dependent on job specs and availability
RGB | #HTML Codes  (Web and Screen Colours )
RGB refers to the three primary colours, Red, Green and Blue.
RGB is the colour profile used for digital screens and devices. Your Screen mixes red, green and Blue light to produce the bright colours you see on your display; websites, mobile devices and video..
* RGB colours use light to make their colours bright, when these 3 colours come together you would get pure white.
RGB Colours are never used for Press, If artwork is presented to a printer in RGB, the Job will be rejected or the printer will convert your RGB file to CMYK and your colours as a result be inaccurate. The colours that are viewed on screen will not produce the same results in print. RGB and HTML codes can be used to simulate spot colours fairly accurately so your brand colours can extend to the digital platform.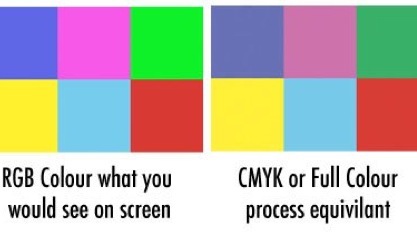 When it comes to your Branding, Colour is important, so always refer to your Logo ID chart for accurate colour breakdowns, for 'in print' and 'online'.
When viewing artwork online for proofing, eg; brochure or flyer, Always remember that the colours are only simulated, and may not look the same in print.
The only way of getting absolute accuracy in knowing the colour output is to ask for a printers proof. However always bare in mind your budgets, as Printers Proofs are not always cheap.
Colour is very complex and has many variations, connotations and behaviours. Professionals can only systemise colour, not guarantee any outcome.